We're driving better care and lower costs with one-point access to every person's healthcare record. So individual healthcare consumers can view their own records from home. So healthcare professionals can increase quality of care and patient satisfaction at lower costs. So organizations and agencies can better understand and support the health of our region's entire population.
Hixny Is Eastern New York
We are the nonprofit health information exchange (HIE) that serves every provider, every resident and every visitor who accesses healthcare between Canada and New York City, and from Binghamton into Vermont.
Serving the following counties:
St. Lawrence
Franklin
Clinton
Essex
Hamilton
Warren
Washington
Herkimer
Fulton
Saratoga
Montgomery
Schenectady
Chenango
Otsego
Schoharie
Albany
Rensselaer
Broome
Delaware
Greene
Columbia
Sullivan
Ulster
Dutchess
Orange
Putnam
Rockland
Westchester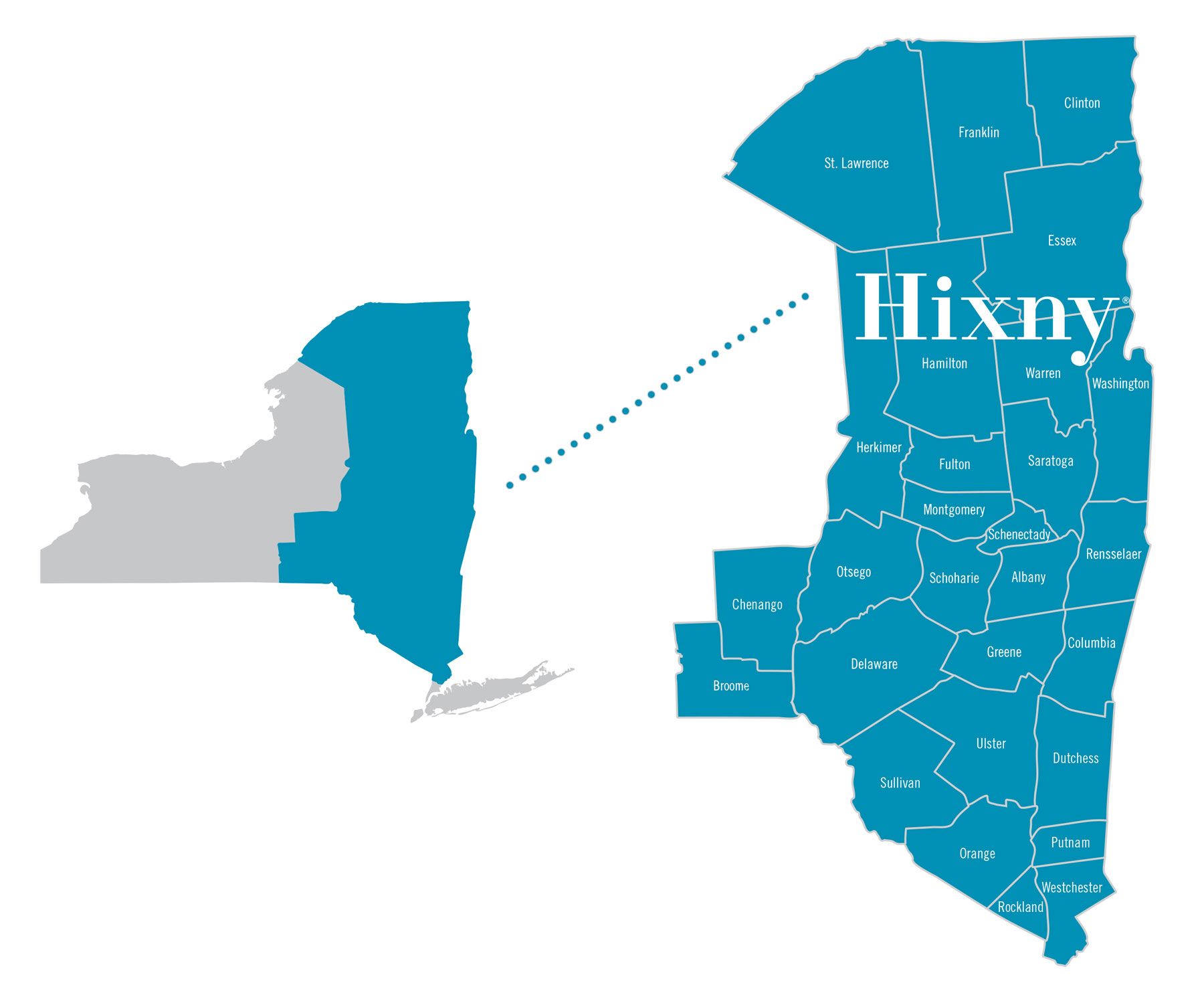 Hixny Is Complete, Accurate and Up-to-Date
In real time, we deliver the highest quality patient health data available. More than 1,700 locations and 6,900 users in our region access their patients' data via Hixny. Primary care providers, specialists, patients and other healthcare professionals rely on Hixny data to improve patient care every day. Can you find more complete and accurate data? In a word: no.
We take data security seriously. Very seriously. Our enterprise-grade systems are protected by the same technologies, protocols and intrusion prevention systems used by the military, law enforcement and leading financial institutions. They are consistently and independently audited, evaluated and enhanced. When it comes to data security, we never rest easy—so you can.
Hixny Is Data the Way You Want It
Hixny provides flexible customization options to save time and make access easier. Hixny is available online or connected directly to most electronic health records systems—giving you access to the patient data you need, the way you need it. On demand or delivered automatically, customizable filtering options put you in control of data tailored to your specific preferences.
Hixny Is Healthcare Data That Makes Sense
Hixny's value-added analytics and insight solutions help identify trends, improve diagnostic accuracy and provide better care to patients.
Request More Information About Hixny
See how Hixny seamlessly connects you to health records from throughout New York.
Learn about the free, secure personal health dashboard available exclusively from Hixny.
Find out which providers, organizations and agencies are contributing and using Hixny data.